This is the page where you find out all about how to become a Studio Intern.
So you want to become a studio intern...
Hopefully by now you have been navigating around our website and have some sort of inkling as to who we are as humans. Now this is  where we will attempt to make ourselves sound so appealing and inviting that when you have finished reading this you will be overcome with an intense desire to automatically stop everything you are doing in order to program your GPS to Paducah.
But seriously here is a blurb about us...
Who are these folks behind Terra Cottage Ceramics???...
We are Michael and Victoria Terra (with two grown daughters and 5 cats). Michael is the 'Mud Poet; clay guy' and Victoria is the 'logistics goddess'. We have been selling Michael's artwork full time for over 19 years. We live in an Arts Community in Paducah, KY. Most of our friends are other artists that live in our neighborhood. Our house is a two story brick shotgun with our display area (gallery), studio, an apartment on the ground floor and our home is upstairs.
In the summer of 2011 we had our very first studio intern (Laura) come live in our apartment and work with Michael. We thought it was going to be an interesting experiment and it turned out to be a terrific experience for all of us. Laura came back 3 times. We have had over 6 interns since that first 'terrific experience'. We are looking for conscientious, self-motivated individuals that preferably have some experience working in clay. Michael runs a detail oriented, fast paced studio and we are looking for just the right person to assist him in his everyday creation schedule.  
In exchange for your help we will provide you with a fully furnished apartment, access to our studio, AND you get to hang with Michael. We're the kind of folk that want this to be a growing & learning opportunity for you so, while you are expected to help in the studio, it is also our expectation that you will be using our facilities (and that includes picking Michael's creative brain) in order to explore your own creative endeavors. It is important to us that we all benefit from this relationship. We will also do whatever you need in order for you to use this time toward college credit. We are a non-smoking household and would prefer a non-smoking assistant (that is unless you are on fire). 
What you can expect you will be doing:
1. Basic studio maintenance; sweeping, dusting, wiping, wedging, loading & unloading kilns, sanding ware, washing ware, glazing, and packing & shipping orders.
2. Pet & garden care when we are off at shows.
3. Production work.

4. Manning the Display Area.
5. Runs to FedEx and the post office.
6. Six month to one year commitment is best.
7. Any other appropriate tasks as assigned.
What's in it for you:
1. Furnished one bedroom apartment with full laundry, kitchen, private entrance, wifi and telephone. You can check out the apartment on airbnb here.
2. Access to our ceramic sculpture studio with 2 Randall potter's wheels and 3+ electric kilns.
3. Get to live in an arts community with other artists.
4. Good cookies & coffee and many shared meals upstairs with us. We usually all have a big salad together at lunchtime.
5. An opportunity to go to an art show....we will arrange for you to come to at least one show with Michael.
6. An opportunity to get an intimate look at a functioning art business; product development, marketing, sales, and production.
7. Michael wants you to work on your own personal project while you are with us.
8. And Fen! Fen is our studio cat who lives downstairs. While you are with us you may invite her into your apartment (or not). Really, how can you resist such a cutie pie!?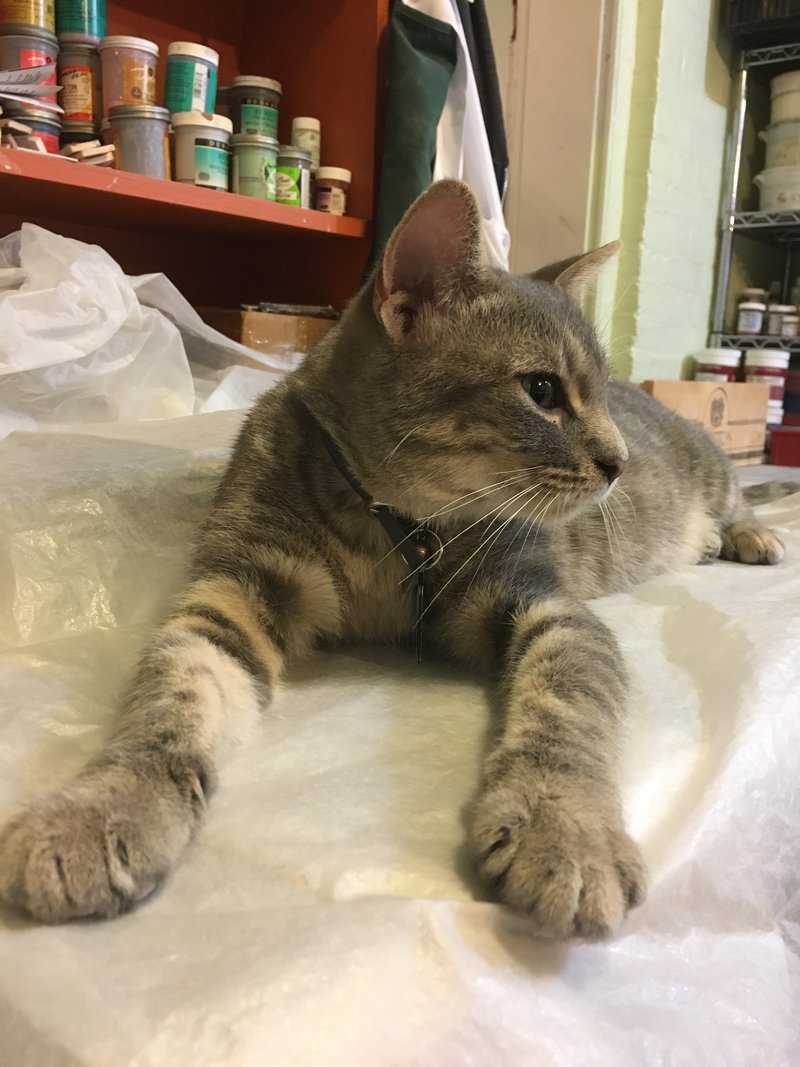 If Victoria has written this well enough and this sounds tantalizing to you then quickly pick up your phone and give us a call at 270-908-0090.
We're looking forward to hearing from you!
Blessings Abound,
Victoria & Michael Terra