This is the page where you get to read, read, read! You will see all of our contact information and then you get to scroll down and learn everything you ever wanted to know about us and Michael & his artwork.
I'll get the contact information out of the way first because we just know that you are achin' to talk to us.
There is also a contact form at the bottom of this page. You will have to scroll down to the very bottom. That is our sneaky way of getting you to read everything right down to the bottom of this page. 
Every. 
Little. 
Thing. 


Our home and studio phone number: 270-908-0090
Our address: 514 N 7th St, Paducah, KY 42001
Michael's email: themudpoet@terracottageceramics.com

Victoria's Email: logisticsgoddess@terracottageceramics.com
Terra Cottage Ceramics Facebook page: www.facebook.com/terracottageceramics
Michael's Facebook page: www.facebook.com/michael.terra
Victoria's Facebook page: www.facebook.com/victoria.terra
Instagram: terracottage
NOW FOR THE STUFF:
Who the heck are we anyway! Here's what we tell folks...
Terra Cottage Ceramics is the combined efforts of Michael (the mud poet) and Victoria (the logistics goddess) Terra. We've been working as a team for over 30 years and selling Michael's artwork for over 18. We travel a lot (A LOT!) mostly for work selling Michael's artwork at art shows and exhibiting at wholesale shows. Then there is the occasional vacation travel that we squeeze in to places that we fancy. We are currently trying to limit our work travel so that we can be home more. Yup. Uh huh. 
We have lived in many places across the U.S. and presently we reside in the arts district in Paducah, KY. We participated in Paducah's Artist Relocation Program and we bought our house from the city for $10 (we know, right?!). We did most of the gutting and renovation ourselves and now we have a studio, gallery, and apartment (for our studio intern) on the ground floor with our living space (home) upstairs. We live in Lower Town with many other artists from all over the country. 
This is a picture of our house/studio...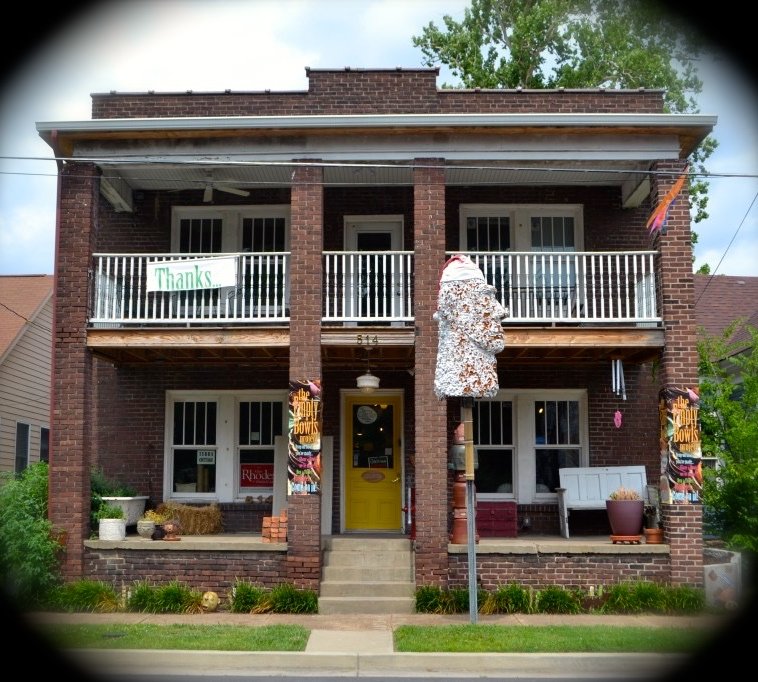 We have two lovely daughters, Artie and Xan. Artie lives in L.A. and Xan lives in Providence, RI. We occupy the homefront with 5 cats and whomever is our studio intern at the time. We almost always have cookies & coffee to share and love it when folks randomly stop by for a visit. Yeah, we're like that. 
Here's a picture of the whole dang family...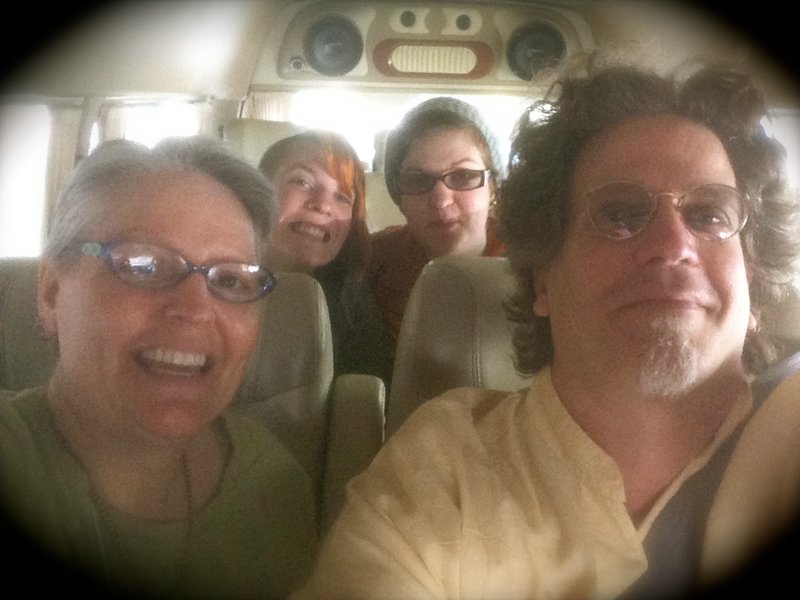 Now for the all the juicy bits about Michael and his Mud Poetry...
Until Michael gets it together to write a more current 'about him thingy', I'm going to put this thingy here......
We are so much the sum of the stories we tell each other! These are the stories that I love- and the people that I love- and these are the stories that I love to remind you of (stories that are already your own). I love word play, reference, inference and visual puns. Put all of that together and you end up with original text and an unfolding depth in the artwork as you discover another layer, (and maybe another layer).
I work in a wide range of scales- from the postcards to Public Art pieces- but almost exclusively in Stoneware.