HERE'S THE DEAL; TERRA COTTAGE CERAMICS IS OPEN TO THE PUBLIC WITH A DISPLAY AREA AND EVERYTHING! WHENEVER MICHAEL IS WORKING IN THE STUDIO WE ARE OPEN FOR VISITS.  IF ART SHOWS ARE YOUR THING THEN YOU CAN SEE OUR SCHEDULE BELOW.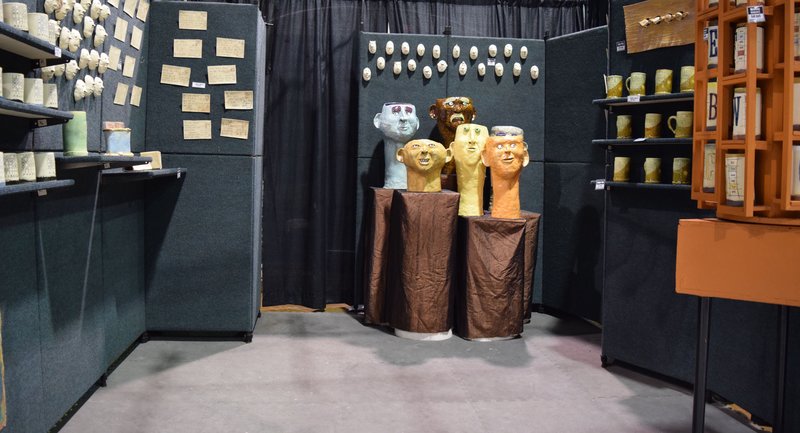 OUR 2018 SHOW SCHEDULE:
Here's our schedule so far for 2018.

If we're not doing a show near you then you can shop online, here, at our nifty website and online store (yippee!). Or you can just give us a call...or you can stop by our studio and bring us cookies...or chocolate. We like chocolate.

February 17th - 19th....ACRE Philadelphia; Philadelphia, PA: Booth #1222 (wholesale only)
March 23rd - 25th....Bayou City Art Festival; Houston, TX
April 7th & 8th....Ridgeland Fine Arts Festival; Jackson, MS
April 21st & 22nd....4 Bridges Arts Festival; Chattanooga, TN
April 28th....Double Decker Arts Festival; Oxford, TN
May 4th - 6th....Spring Tennessee Craft Fair; Nashville, TN
May 11th - 13th....Laumeier Sculpture Park 2018 Annual Art Fair; St. Louis, MO
June 15th - 17th....American Artisan Festival; Nashville, TN
June 23rd & 24th....Evanston Chamber Artisan Summerfest; Evanston, IL
July 19th - 22nd...Ann Arbor Summer Art Fair (The Guild Section); Ann Arbor, MI: Booth #MN107
August 11th....Tomato Art Fest; Nashville, TN
August 24th - 26th....Midwest Salute to the Arts; Fairview Heights, IL
September 7th & 8th....Lakeview East Festival of the Arts; Chicago, IL
September 15th & 16th....Printer's Row Art Fest; Chicago, IL
October 5th....Solo exhibit at Bennett Gallery; Knoxville, TN
October 13th & 14th....Bayou City Art Festival Downtown; Houston, TX
October 26th - 28th....River Arts Fest; Memphis, TN: booth #D43
November 10th & 11th....Covington Three Rivers Art Festival, Covington, LA
November 29th - December 1st....Chimneyville Crafts Festival, Jackson, MS
December 13th - 24th....Armadillo Christmas Bazaar; Austin, TX: booth #N2